Private and Multi-Class Packages

If you want to have a dog that you can take anywhere...on walks, in the car, into stores, to the Promenade shops, to soccer games....the dog needs training and manners. One six week course just simply isn't enough to provide the consistency through the developmental stages your puppy will grow through.

• 1 Private + Puppy Manners $245
• 1 Private + Puppy Manners
+ Foundations $400
• Puppy Manners + Foundations
+ CGC or Advanced Manners $430
• 2 Privates + Foundations $375
• Foundations + 2 of the following:
CGC, Advanced Manners, Rally Starter,
Control for Agility, Scent Patrol, Tricks $485

Call Ali for details (610) 737-1550



Updated 10/23/2016

GENERAL INFORMATION
Puppy classes are $150 for 6 weeks, class max 6 puppies. All other classes are $180 or 6 weeks, unless otherwise noted. Class max 5 dogs. Please click on the Course Title for a class description or click here for a description of all classes. For more information on any class contact Ali Brown, ali@greatcompanions.info, 610 737-1550.

$10 Special Discount to any student who registers and pays for
a 6-week future class BEFORE the end of their current one.

• C-WAGS Scent Investigator -- Level 3 register by mail register online
Starting: Saturday, October 15, 2016, 10:00 - 11:00AM, No class November 19
Prerequisite: Scent Detective (Level 2)

• C-WAGS Rally Pro register by mail register online
Starting: Tuesday, October 18, 2016, 6:30 - 7:30PM
Prerequisite: C-WAGS Rally Advanced

• Intro to C-Wags Scent Detective -- Scent Patrol register by mail register online
Starting: Tuesday, October 18, 2016, 7:45 - 8:45 PM, Prerequisite: None

• Reactive Dog group classes, Saturdays 10:00 AM
Current students only: register by mail register online
(click here to watch exercises from this class)
Evaluation and four private lessons (minimum) required before beginning class.
Contact Ali by email or call 610 737-1550 for details.
Go to bottom of this page for the evaluation form.

• Control for Agility, register by mail register online
Starting: Thursday, October 20, 2016, 6:30 - 7:30PM.
Prerequisite: Foundations or a working knowledge of Sit, Down,
Focus, and Stay in a class environment and working knowledge of
Positive Reinforcement Techniques including Clicker Training.

• Control for Agility Level 2, register by mail register online
Starting: Thursday, October 20, 2016, 7:45 - 8:45PM.
Prerequisite: requires completion of Control for Agility
or permission from Mardi or Ali.

• Puppy Manners and Socialization, register by mail register online
Starting: Sunday, October 23, 2016, 11:00 AM - 12:00 PM
Prerequisite: Puppies must be between 9 and 16 weeks old at the start date
of the class

• Foundations, class filled
Starting: Sunday, October 23, 2016, 12:30 - 1:30PM
Please Note: Do not bring your dog to the first class!

• Tricks, register by mail register online.
Starting: Sunday, October 23, 20165, 2:00 - 3:00 PM,
With a few simple tips, we will show you how to Train Your Dog To Do (Almost)
Anything. Click here to learn more. Prerequisite: Foundations or
permission from the trainer.

• PupAgility, register by mail register online
Starting: Wednesday, November 2, 2016, 6:30 - 7:30PM, No Class Nov 9
Prerequisite: For dogs 11 months and younger. Puppies must be at least 12 weeks
and have taken or be in Puppy Manners. Must bring a crate or place to give
puppy time out. Bring lots of fun toys and food including a small dog bowl.
Puppies need to know "sit". We will work on "stay" a lot but having had
some work on this would help If they are going to enroll under 20 weeks.

• Foundations, register by mail register online
Starting: Monday, November 7, 2016, 6:30 - 7:30 PM,
Please Note: Do not bring your dog to the first class!

• CGC (Canine Good Citizen) register by mail register online
Starting: Monday, November 7, 2016, 7:45 - 8:45 PM,
Prerequisite: Foundations or a working knowledge of positive reinforcement training

• Foundations, register by mail register online
Starting: Saturday, November 12, 2016, 2:00 - 3:00 PM, (no class November 19)
Please Note: Do not bring your dog to the first class!


$10 Special Discount to any student who registers and pays for
a 6-week future class BEFORE the end of their current one.
---
$25 per hour for the first person
$5 additional for 2nd and 3rd person (3 people per hour max)
Each person may bring two dogs.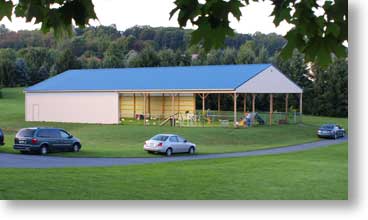 Price includes Rally-Obedience signs and agility equipment
Building is 96' X 50' with Artificial Turf and high output fluorescent lighting,
click here to see more images.Contact Ali via email for details.

Winter Bad Weather Policy: if the forecast is for 2 or more inches of snow, or freezing rain and ice four hours before a scheduled class, that class may be delayed by one week. If that happens again for that same class, that class may be canceled and not made up. In that case, attempts will be made to cover all materials in an abbreviated class schedule.

Summer Bad Weather Policy: classes cannot be canceled due to thunderstorms because they are too isolated and unpredictable to affect all students. Please call Great Companions any time prior to your scheduled class if you are aware of tornado warnings in your travel area.

Click here for directions to our facility
---

Private Lessons are available at our location or at your home (fee slightly higher). Reap the benefits of our courses without the distractions of other dogs. Private lessons are scheduled at the owner's convenience. Call (610) 737-1550 for prices.

Semi-Private Lessons
Call us for information about semi-private lessons where your dog will be matched with a compatible dog. Only $280 for a 6-week session!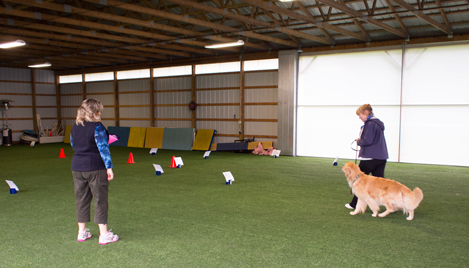 Ali judging one of her students at a recent Rally Trial. Rally and Agility classes are taking place now in
our pavilion
.
---
New Private Students only: after confirming the date and time of on on-line private consultation with Ali, please click on the BUY NOW button below to make an $80 deposit toward your new lessons. Your lesson will not be confirmed until that payment is received. You will be making a payment to Tanacacia@aol.com for Private Lesson Payment through PayPal. This is a secure transaction.


---