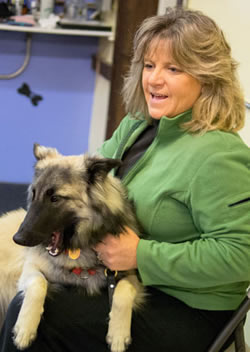 Ali and Dax are cheering on one of

the other dogs in C-WAGS Rally Class.


Ali Brown graduated from Ursinus College with a B.S. in Psychology, and earned her M.Ed. in Human Development / Behavioral Science from Lehigh University. Working earlier in her career as a behavior therapist/consultant with mentally challenged children and adults, she made a fulfilling switch to working with dogs in 1998.

In 2001, Ali became one of the first 100 trainers to receive her CPDT certificate (Certified Pet Dog Trainer) from Certification Council for Professional Dog Trainers (CCPDT). In May 2008, she became a Certified Dog Behavior Consultant (CDBC) through the International Association of Animal Behavior Consultants (IAABC). Ali takes great pride in providing non-force training methods for dogs and their people. Ali was a member of the APDT (Association of Pet Dog Trainers) for 15 years and served on multiple committees as well as serving on the Board of Directors for a 3 year term.

She lives, trains and works with Bing, a 10-year-old Belgian Sheepdog whose abilities and antics qualify him for his own section of this Website, and Tango, a 'little white fluffy' rescue, who is technically her daughter's dog, but has earned multiple titles with both Ali and Cyan (age 7). Pictured to the right with Ali is Dax, a Belgian Tervuren who joined the family as a puppy in August 2014.

Ali is a great believer in forever learning. She attends seminars, IAABC conferences and Clicker Expo conferences regularly. She attended the first two Nose Work seminars on the East Coast. The first was in April 2010: Intro to Nose Work and was presented by Jill-Marie O'Brien and Amy Herot. The second, Intro to Odor, took place in June 2011. Her interest in scent work has evolved into becoming a Scent Detectives judge at all levels. Great Companions runs regular Scent classes, and they are very popular.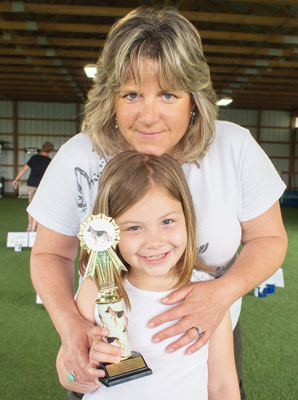 Ali Brown and daughter, Cyan,
after Cyan wins her C-WAGS
Rally level one title.
You can read about one of the more unusual training events Ali was involved in -- a week-long
Chicken Camp
, run by behavior guru, Bob Bailey, and hosted by Terry Ryan in Washington State.
Click here for the whole story.
Giving is as important as receiving, and Ali does just that. She has been traveling the nation, delivering her one-day and two-day seminars on fearful and reactive dogs (
www.ScaredyDog.info
); this seminar has taken her as far as Alaska, California and Florida. Ali leaps at any invitation to share the information she has learned regarding this issue.
Another passion for her is Rally. Ali is a C-WAGS judge at all levels. What makes Rally unique is that it is competitive obedience for anyone and everyone, regardless of age, gender, breed, mix, handicap, or level of competitiveness. It's more about the relationship between the owner and the dog and having fun, than it is about precision. Ali's judging assignments are usually close to home, but they have taken her as far west as Arizona and California.
Agility has long been a source of amazement for Ali. Agility is a real craze among dog-lovers, but what Ali finds most fascinating is how precise body movement and posture must be in order to communicate effectively with your canine partner. She's always known that body language is important; agility makes that fact screamingly clear!
Click here
to see Ali and Bing in action in Agility
.
Part of Ali's evolution as a trainer has been to learn how to work more effectively with kids and dog. Having a kid of her own has enabled her to be even more effective in helping families to effectively juggle childrens' and canines' needs in the home, fostering a peaceful existence. Ali's own daughter has earned four titles on her dog before the age of 7.
Ali currently competes with her dogs in rally, agility, obedience and scent.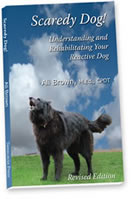 Ali's second book,
FOCUS NOT FEAR, TRAINING INSIGHTS FROM A REACTIVE DOG CLASS
(2008) is
available by clicking here
and through
Dogwise
.
Her first book,
SCAREDY DOG! UNDERSTANDING AND REHABILITATING YOUR REACTIVE DOG
, was published in June 2004 and revised in 2009. The book can be purchased through
Dogwise
,
Amazon
,
Barnes & Noble
and other book sellers nationally, and is
available through this Web site
. It includes training methods that are easy to implement, and comes from her experience with individual training sessions and group classes on the subject. For more information on the book please go to the
ReactiveDog.com website.
Ali's seminar DVD, which is based on her book
Scaredy Dog!
, and her
Reactive Dog Classes DVD
are also available on the
ReactiveDog.com Website.
Contact Ali by phone 610-737-1550 or by email:
ali@greatcompanions.info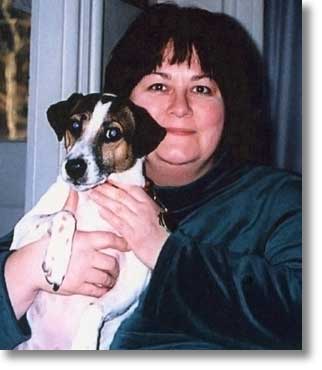 Sue Sanders, RNC, CPDT-KA, graduated from The Allentown Hospital School of Nursing with her RN diploma. She has worked in various areas of nursing including 15 years in adult Intensive Care and the past 16 years in Neonatal Intensive Care. She obtained her RNC – certification in the NICU specialty, after an extensive course at Hershey Medical Center in 1996. Sue is a professional member of the Association Of Pet Dog Trainers. She lives with Tony, an 11-year-old JRT who loves to hunt and chase mice, and hopes for success as an Earthdog.

Sue's work with animals began over 30 years ago when she served on the Board of Directors as Membership Secretary for Animals In Distress, a local no-kill shelter. She also actively participated for several years in vaccinating the resident cats, fostering as needed, and assisting with cat adoptions.

Along came a mellow Jack Russell Terrier, Teddy, in 1993.There was no Great Companions then, no positive training classes available, but in 2003, Sue began training and working with Ali Brown, M.Ed.,CPDT-KA, CDBC. She and Teddy never left, taking every class offered as well as weekly private lessons. Teddy became an avid Rally Obedience titlist and a Therapy Dog. Tony, a stray Jack Russell Terrier, became part of the household in 2004, offering some training challenges of his own! Over the years, Tony has shown the merits of positive training in his own way. Initially a noise- reactive, very easily over stimulated, anxious dog, he has become a wonderful companion who loves to learn new things and learns so very quickly!

Having become a loyal believer in the merits of non-force, positive training methods, Sue became Ali's assistant for nearly a year, as she continued to read and train and learn. She received her certification (CPDT-KA) as a professional pet dog trainer in November of 2007 from the Certification Council For Pet Dog Trainers (CCPDT). In 2008 she became an AKC certified Canine Good Citizen evaluator, in 2011 an APDT C.L.A.S.S. evaluator, and in 2103, she became an Approved C-WAGS Advocate.
Continuing education is part of Great Companions' commitment to excellence as professional trainers. Besides many on-line telecourses, Sue has attended both the Intro to Nose Work and Intro to Odor seminars presented by Jill- Marie O'Brien and Amy Herot. She also attended the Canine Freestyle Federation seminar presented by Joan Tennille and hosted by Great Companions. Ali's dog Acacia graciously agreed to work with Sue that day and fun was had by all! Sue attended the APDT Conference and Trade Shows in Atlanta and San Diego, including a workshop with Terry Ryan. She also had the pleasure of attending a Bob Bailey seminar in 2011. The 2013 Clicker Expo in Connecticut is next!
As a trainer with Great Companions, Sue conducts classes in Puppy Manners and Socialization, including the AKC S.T.A.R. Puppy program; Puppy Teens class for puppies entering their adolescent period; Foundations, a basic obedience course; a recall/loose leash walking class; a greetings, stays, games class.


Karen Schelling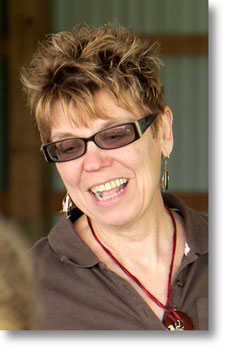 Karen Schelling has been involved in showing and training dogs since the mid-nineties. She initially began training in obedience with the late Alma Arnold in the Lehigh Valley, PA area as many beginners have done: to develop obedience skills for her rescue dog, an Australian Shepherd named Mickey Finn, and her first rescue, English Springer Spaniel, Jake of Heatherfield.
At the encouragement of friends, she eventually developed a small agility and obedience training group, Heatherfield Training. Her former experience as a psychotherapist has provided an excellent background for working with both humans and animals. As part of her graduate level training in Psychology, she engaged in the study of animal behavior and conducted original research with herd animals (e.g., horses). The combination of therapeutic interventions, animal behavior research and experience working with dogs appears to have created a rather unique training style, which seems to be appreciated by both the handlers and the dogs.

Karen actively shows in AKC and USDAA agility trials, AKC Rally-O and regular AKC obedience classes with her two English Springer Spaniels, Riley, MACH 6 Aubrey's Jump for Joy, UD, RAE, and two year old Rosie, Aubrey's Run For the Roses, CGC, CDX, RA, MX, MXJ, XF. Riley was the 4th place finalist in the 20" jump height at AKC Invitationals in 2008 and holds the breed record for the Clean Run 60 weave pole challenge. He is a two-time winner of the high combined award for agility and rally at the All Star Dog Obedience and Agility Tournament and was English Springer Spaniel Field Trial Association's Rally Springer of the Year in 2009. More recently he finished in the top 13% with all clean runs at 2011 AKC Nationals and was the #2 dog for PA in the State teams competition.

Karen is the author of several short stories related to agility competition:
"This is Jake," Front and Finish, Nov, 2004.
"Harley Runs the National," Spaniel Journal, May, 2006.
"National Velvet at the AKC Invitational," Clean Run, Jan.2010.
Karen is currently a member of the Keystone Agility Club, and the English Springer Spaniel Field Trial Association. She trains with Mary Ellen Barry and Keystone Agility club.
"I enjoy showing in regular obedience classes and Rally; however, agility is my passion. Initially, my goal was to have the top-ranked English Springer Spaniel in AKC agility. When Riley, my three-year-old Master's level competition dog sustained an injury while hiking, I gave up that dream. I no longer want to be a World Team member or break any records. Although Riley has made a full recovery, I am aware that each precious moment on the agility field or in the obedience ring is a gift. I take the gift and run fast, run clean."
Happy Trails,
Karen

You can reach Karen through her website, www.heatherfielddogtraining.com, via email:schellingkaren@yahoo.com, or by phone: 215-208-7454
Michael Girvin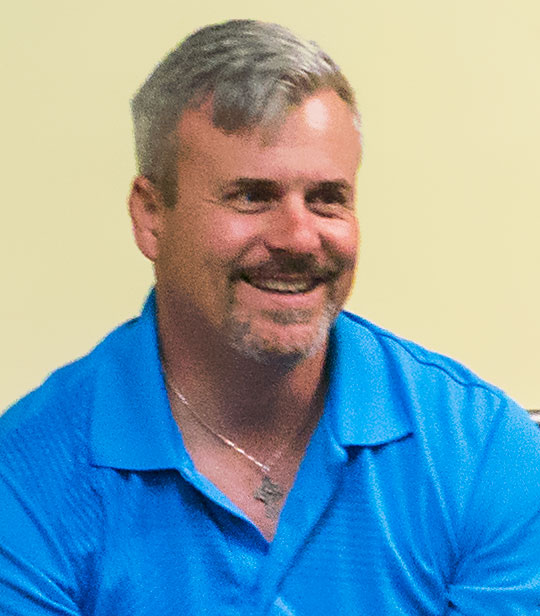 Michael Girvin has always had a love of dogs. He spent many hours as a kid with family and neighbor's dogs, whether it was just hanging out on the lawn or taking them as a great fishing partner.

After two years of college, Michael joined the US Army and became a part of the K-9 Corps. He worked with two dogs, one a German Shepherd Dog, the other a Rottweiler. The methods used to train these dogs were harsh (now changing). This never sat well with him. After leaving the Army, Michael quickly joined the civilian police force. During his time as a police officer he started to research different ways to train dogs. He continued to train dogs for family and friends.

After retiring in 2004, Michael was ready to open up his own dog training business, The K-9 Connection LLC, a successful all in-home dog training business in Eastern PA/Western NJ. He has attended an online program, seminars, and webinars, and continually learns the newest techniques in positive reinforcement dog training. Michael is passionate about conducting training by attaining a mutual trust, love and respect with his clients and their dogs. He is currently a professional member of the APDT.