A Real Honest Dog -- December 22, 2012

I mentioned in an earlier blog that one week after losing Acacia, Bing and I went to Belgian Sheepdog Nationals, which happened to be down the road in Bethlehem. At that trial, he took 1st place in his Standard and Jumpers class. He was awesome and I was so proud of him. It was funny; I felt really at home around all those Belgians, even though I didn't know too many of the people. But I did have my trusty friend Sue Sanders with me, and hung out with a few other Belgian folks I knew. Bing was happy and relaxed. This gave him his first Standard run toward his Masters title, and his second leg toward his Excellent Jumpers title. That was April.


Bing and Ali run a course designed by Karen Schelling
during their usual Monday night class at Great Companions.
I didn't trial again until June 22. For a while, I was back in a funk about trialing in agility. Bing is very good at agility; he is what my trainer, Karen Schelling, calls "an honest dog." He wants to work, he does what I tell him to do, and he yells at me if I am not clear enough or if I don't tell him fast enough. He never, ever, does zoomies around the ring or makes up his own course. He's great in class and he's great in the ring. It's everything else that makes the trialing experience miserable. He is anxious in the car, anxious in the crate, anxious in the crowds, anxious in most buildings. He drools, he screams, and it took him a long time at certain venues to be able to pee or take food. How fair is that, just for a ribbon? I finally decided that I would enter trials until he got his Excellent Jumpers title, and then reconsider. I'd need to find the right place to trial.
So, I drove down to Maryland, a 2:45 drive. It was a nice venue, an indoor soccer arena. He crated ok, but the long walk with the heavy metal crate I must use for him was really brutal. He didn't scream while crated, while I went potty and walked the course. He liked the turf and the largeness of the place. We were a few hours early, so we took some walks and sat together. A few times I walked around by myself, but that really stressed him out (drool) so I limited the amount of time I did that.
I had entered Standard and Jumpers, and Jumpers was first. I walked and walked and walked the course. They played some great pump-up music and it really pumped me up LOL. What was even cooler is that my neighbor and friend, Clyde Closson, was our judge. We were FIRST on the line. I was ready. The course had crosses all over the place! I still didn't trust him on off-side weaves, so I babysat him and made sure I sent him in on my left side. Even that tough cross was easy for him. And Bing was PERFECT. He kicked some serious butt and took 1st place, and his Jumpers title!!!!
To Clyde's astonishment, I packed up and left. I drove nearly 3 hours, had a 35 second run, and drove home. I couldn't have asked another thing from my friend Bing.
It felt REALLY good to drive home.
We took the summer off from trialing. I still fight the question of whether it's worth it to trial him. He's SO GOOD but it's SO HARD for him, and is that fair? Why do it? For some ribbons? For bragging rights?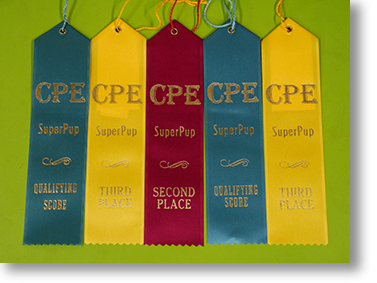 Bing's ribbons from his first CPE agility trial.
I decided to try CPE, and last Sunday, we went to our first trial. It's a lot more relaxed, less competitive, there are more games you can do, and more options for titles. I also registered because there seem to be more venues that are CLOSER to us, meaning shorter drives. It turns out that our first trial was at a place that he knows. He hasn't been there in several years, but we got there, parked right outside the building, and he walked in, GOT MEASURED!!!!! And did well with that (tolerated the judge touching his shoulder and putting a bar over it!!!!!!), and stood calmly while I set up our crate.
He was as calm as I'll ever see him in a trial atmosphere. It was actually fun (aside from the fact that we haven't done the games before and it was a learning curve for me!) and he never once panicked, never once screamed. People even commented on how well he was doing, when I explained about his challenges.
At this trial he NQd once because I didn't know the game, and took 2nd and 3rd in the other two. Honest dog.
We will be doing more CPE, and I hope to convince some folks around me to come with me and help me, so he can stay calm. I am still thinking about doing more AKC. He should have his masters by now in both Standard and Jumpers. But it's more important to me that he and I have FUN. After all, why do agility if it's not FUN?